At Delta Heat Services you can buy or rent different types of heating systems. We have two specializations, the electrical equipment and the induction equipment. In this article we will tell you more about our induction heating system, used for electric conductive constructions. We use this whole process most of the time for preheating metal pieces. Discover more about our specialization right here.
The purpose of an induction heating system
Induction heating is one of the core specializations of Delta Heat Services. The purpose of this method is heating an electric conductive construction. For 90 percent of the time, we're using it for preheating metal pieces. We have different applications to achieve this induction heating. First we have the induction unit system. This system, the ProHeat 35, is an induction power source equipped with a built-in temperature controller. You can use this temperature controller for manual or temperature-based programming using up to four control thermocouples.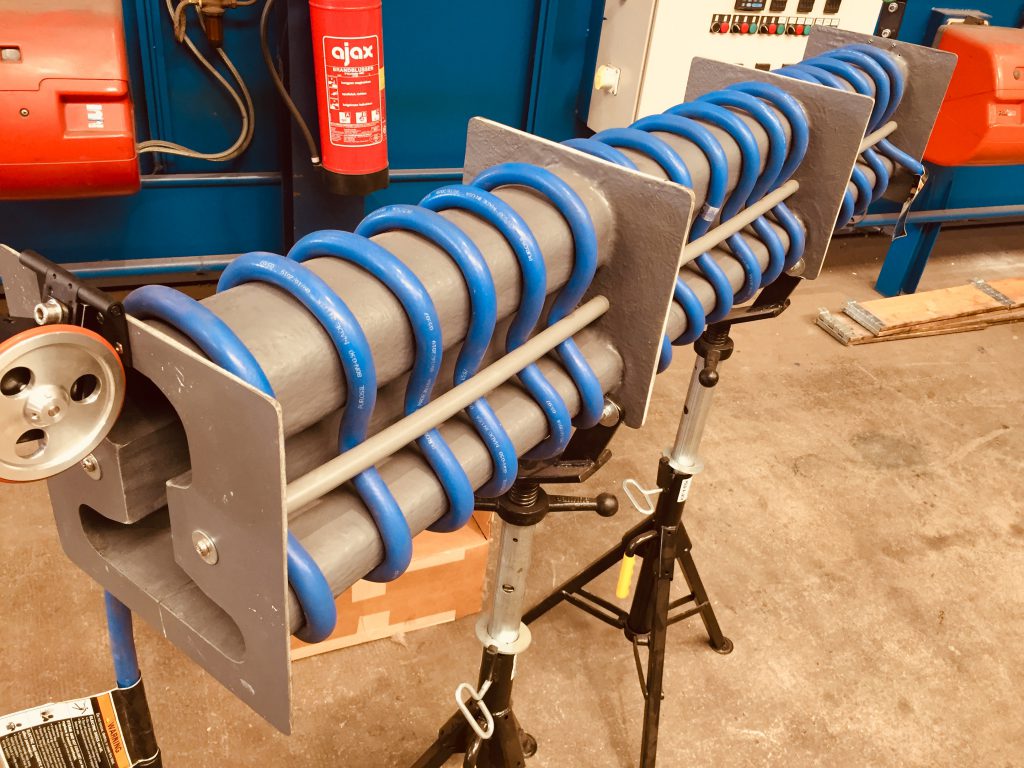 One ProHeat 35 power source has two outputs and can run one or two heating cables at a time. The outputs are connected with the heating cables because of the supply of the coolant. This makes the whole process fireproof. The component is connected to the heating cables and that makes the induction heating system complete. In some cases we use a rolling inductor. The rolling inductor is used for larger metal pieces, like big tubes, larger pipes or any other heavy constructions. Designed with flexibility in mind, the ProHeat ™35 liquid-cooled induction heating cables can be wrapped into coils of various shapes and sizes to fit almost any induction heating application.
ProHeat ™35 Induction unit (Miller)
Our type of the induction heating system is the ProHeat 35 Induction Unit, from an American brand called 'Miller'. Delta Heat Services offerts the liquid-cooled induction system. The heating cables have the length of 9.1, 15.2, 24.2 or 42.7 meters. This induction heating system heats applications to 788 degrees Celsius.
As we already said, the system is most of the time used for preheating. But, the induction heating systems can also be used for annealing, hydrogen removal, heat post-treatment and shrink fits applied to different diameter pipes and flat plates. In other words the ProHeat 35 Induction system is a big computer that controls the temperatures, and the other associated components provide the whole heat supply.
Delta Heat Services
Delta Heat Services was founded in 1997 and established their headquarters in Stellendam, The Netherlands. Delta Heat Services is a service aimed company, specialized in Industrial Heat Treatment. Due to a high level of knowledge, years of experience and technology Delta Heat Services delivered numerous high profile projects worldwide. It's possible to buy or rent our induction equipment. We also have electrical heat treatment, this type of heating is also used for preheating and for post weld heat treatment.
Read more about our induction equipment, heat treatment and our other specializations. We also work on a project basis. One example is the preheat of the train rails. The purpose of this project was coating the rails, which protects against corrosion and contributes to a longer lifespan of the rails. Do you have a question about our services or do you want to request a quote? Please contact us and we're happy to help you!