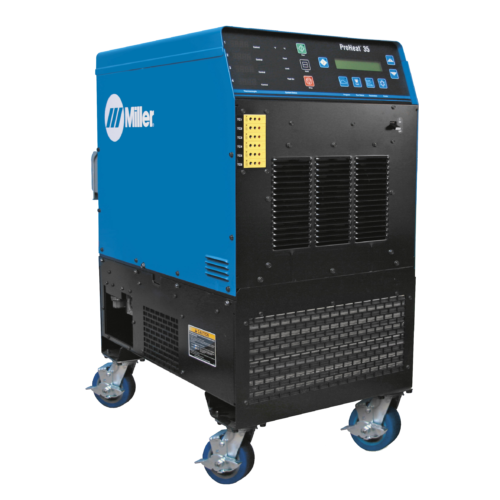 Induction unit
Category: Induction Equipment
Art. number: 907432
Proheat 35 kW, 400-460V, 50/60Hz.
The ProHeat ™35 induction power source is equipped with a built-in temperature controller allowing for manual or temperature-based programming using up to four control thermocouples. At more than 90 percent efficiency, the ProHeat™35 power source transfers more energy to the part, reducing operating costs over different heating methods. One ProHeat™ 35 power source has two outputs and can run one or two heating cables at a time.
Maximum Temperature 788°C (1,450°F)
Input Power 460–575 V, 3-phase, 60 Hz 400–460 V, 3-phase, 50/60 Hz Input Amperes at Rated
Output 400 V: 60 amps 460 V: 50 amps 575 V: 40 amps.
Rated Output 35 kW at 100% duty cycle
Power Source Dimensions H: 27.5 in. (699 mm) W: 21.75 in. (552 mm) D: 36.75 in. (933 mm)
Power Source Weight Net: 227 lb. (103 kg) Ship: 265 lb. (120 kg)